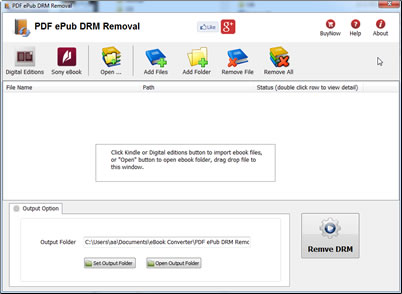 PDF ePub DRM Removal quickly and easily remove ebook ADEPT DRM protection for PDF epub files with 1-click. user can view PDF ePub ebook on iPad, Sony Reader or other device without limitation, user also can print Digital Edition ebook. It is very easy to user, just 1-click to decrypt epub ebook.

Latest 3.22.10316.
Key Features
One-click converter.
No quality lose, the same quality as source ebook.
Create a new epub/pdf file, no need to backup the source files.
Support both epub and PDF file.
Remove ebook DRM
Troubleshooting
if you have drm pdf file that could open in Adobe Reader, not in Digital editions, you should try another converter PDF Reader Converter.
Screenshots
ePub eBook
EPUB is a free and open e-book standard by the International Digital Publishing Forum (IDPF). Files have the extension .epub.
EPUB is designed for reflowable content, meaning that the text display can be optimized for the particular display device used by the reader of the EPUB-formatted book. The format is meant to function as a single format that publishers and conversion houses can use in-house, as well as for distribution and sale.
An EPUB file can optionally contain DRM as an additional layer, but it is not required by the specifications.In addition, the specification does not name any particular DRM system to use, so publishers can choose a DRM scheme to their liking. However, future versions of EPUB (specifically OCF) may specify a format for DRM.
Related Articles