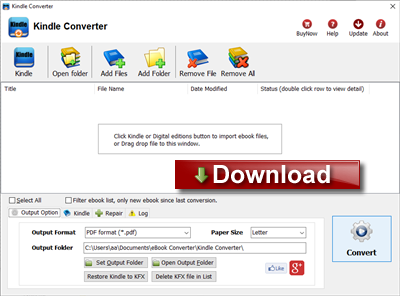 Kindle Converter easily convert Kindle DRM / DRM-free ebook to PDF ePub Word formats. user can view Kindle ebook on other computer or device, user also can print Kindle ebook without DRM limitation, it support Kindle DRM file downloaded in Kindle for Pc and nodrm mobi files, convert to PDF ePUB Word Text Html format file with 1-click, read your purchased Kindle ebooks in any device.

v1.19.930 release!
New Update
Support Kindle KFX format, improve conversion speed.
Improve page margin for pdf file.
Windows User – Downgrade Kindle for Pc to v1.17 or v1.24
Kindle for PC v1.25 latest version isn't support, user should downgrade to old version v1.24 or v1.17, re-download ebook in old version v1.17 or v1.24
Download Kindle for PC 1.17 Download Kindle for PC 1.24
Downgrade to Kindle for pc v1.17 or 1.24
Mac user – Patch Kindle for Mac
to download kindle file in old azw format, user need to patch Kindle for Mac, even latest version,
Patch Kindle for Mac, remove kindle drm in macOS Catalina
Kfx format KFX-zip file
.kfx-zip is new KFX kindle book, that converter does not support,
in windows, converter work with files v1.24 downloaded.
in Mac , user patch Kindle for Mac app to download old azw format file.
How to Convert Kindle to PDF ePub Word format?

How to convert .azw .mobi file to PDF/epub/word/text format
1). User should download and install amazon free app Kindle for pc or Kindle for Mac, latest version is NOT support, download kindle for pc old version v1.24, kindle for mac v1.17.


2). Download ebook in Kindle for Pc.

Video tutorial to download Kindle ebook into Mac Windows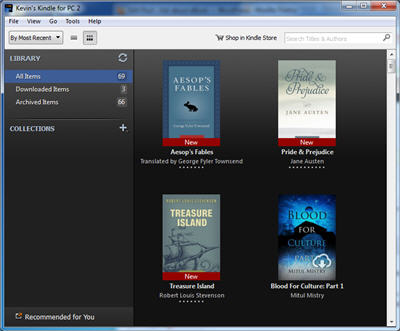 3). Download and install Kindle Converter.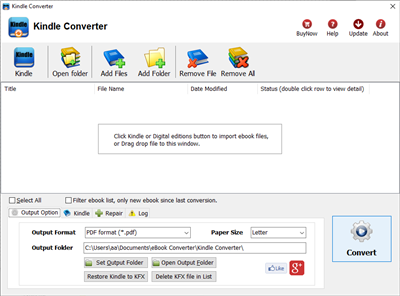 4). Click Kindle button to add kindle ebooks into converter, select output format in "ouput" section.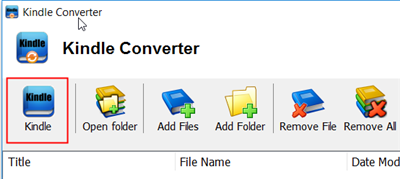 5). Click Convert button to start conversion.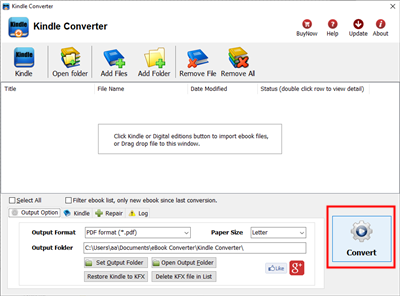 6). Wait until job finished, new file in output folder will show up.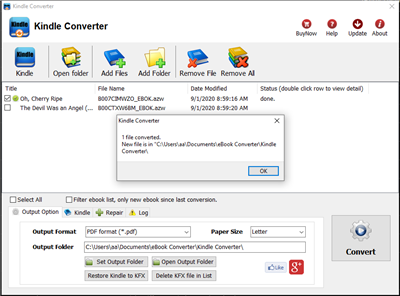 Key Features
easy use, drag-drop support, One-click converter.
support Kindle DRM ebook downloaded from Kindle for Pc.
Output format support PDF ePub, WORD rtf, HTML, Text.
High quality conversion, no quality loss.
Video tutorial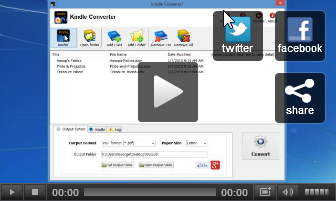 Kindle Converter Video on findmysoft.com
Screenshots
Kindle PC

Amazon released a Kindle for PC app, available as a free 5.17MB download for Windows 7, Vista, and XP. Much like the Kindle for iPhone app, Kindle for PC syncs your Amazon e-book downloads and shows them on your computer for convenient reading either when you're away from your svelte e-book reader or if you chose not to buy it in the first place.
Though not necessarily revolutionary, the Kindle for PC app does the job. Among other benefits, it syncs your last read page with Whispersync, syncs Kindle notes, and promises to utilize Windows 7's touch technology, allowing readers to pinch-zoom, and, in future releases, turn pages with finger swipes. Amazon is reportedly working on the ability to create notes and highlights on your PC and a search function. What you can't do is view blogs, newspapers or magazines — not a big whoop given you'll be at your computer, but still…
It's Amazon's hope that additional portability for Kindle purchases will dissuade e-book fans from adopting competing technologies. But until Amazon loosens its DRM and embraces the burgeoning ePub standard, the company may experience roadblocks as e-book readers evolve.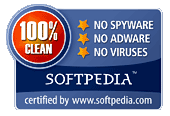 Download Kindle pdf epub html word converter at softpedia.com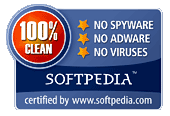 Related Articles