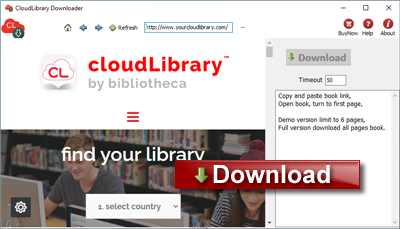 Cloudlibrary Downloader
is tools to download ebook to pdf at cloudlibrary.com with 1-click, backup favourite book before expiration, it works like browser, download book pages automatically.
Cloudlibrary Downloader Guide
1). Download and install Cloudlibrary Downloader, it run like a browser, copy and paste book link in address editor.


2). User sign in account,

3). Mouse click book page, bottom panel show up, drag to first page.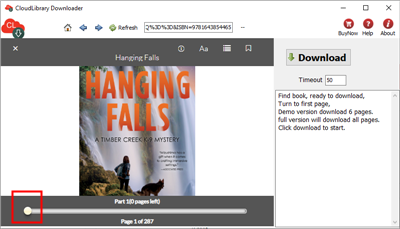 4). Download button will be enabled when book is ready to download, click download button to start.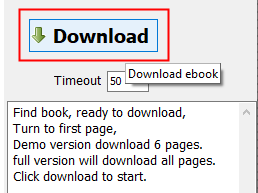 5). app will download every page one by one, when it end, a new pdf saved in output folder.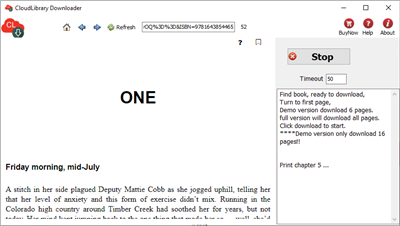 6). when all pages downloaded, a new pdf saved in output folder.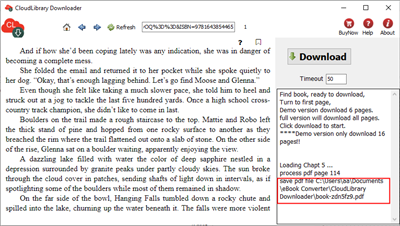 Bibliotheca
Bibliotheca is a company that offers library support for the check out of eBooks, like cloudbrary.
Cloudbrary
CloudLibrary is the name they call their checkout system. Some libraries can have books in the cloudLibrary and other books in the Overdrive Library. Both library checkout systems use the same Adobe DRM.
The world's leading eBook and audiobook solution, cloudLibrary™ is designed to be accessible to library users wherever they want to read or listen. It boasts the best cross-platform user experience, offering intuitive browsing, downloading, reading, and listening and is the only platform that can integrate fully with self-service kiosks and discovery stations inside your library. Take a tour of our feature-rich solution to understand every aspect of how you can engage with your users and keep them coming back for more.
Why choose cloudLibrary™:
Extremely simple sign-up and sign-in process
Achieve more circulation from your digital titles
Deliver an outstanding user experience
Attract new digital users from within your library
Powerful tools for collection development
Marketing tools and support to help promote your digital collection
Related Articles