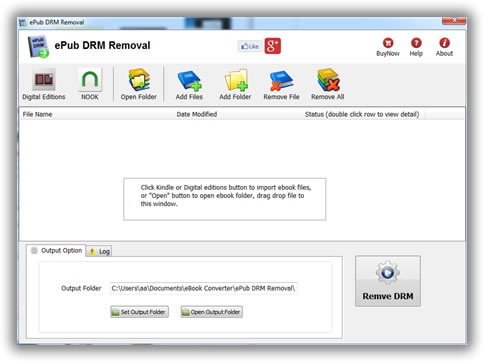 ePub DRM Removal quickly and easily remove Adobe ebook ADEPT DRM protection. it supports ePub/PDF drm ebook that was opened in Adobe digital editions, create new nodrm file without DRM limitation. user can view ePub ebook on iPad, Sony Reader or other device, convert to mobi format to read in Kindle ereader, convert to PDF format to print Digital Edition ebook.

Latest v4.22.10316
To remove Adobe ebook drm, you need to install Adobe digital editions, and download ebook in Digital editions, you also can open epub file that download in Sony library application or Kobo reader application.
Support ebook provider
Purchased Google Play books.
Purchased Kobo books, http://Kobobooks.com
OverDrive eBooks, Public library ebook.
All other epub ebook opened in digital editions.
itunes ibooks doesn't support.
Key Features
Drag and drop support easy to use.
No quality lost, just remove drm protection, the same quality as source epub files.
Create a decrypted ePub file,No change to source files, no need to backup the source files.
Remove ebook DRM.
iBook epub doesn't support.
Tutorial and help to remove Adobe DRM
Video

How to remove Adobe ePub DRM ?
Screenshots
"ADEPT Key Error: Failed to decrypt user key, Wrong Key Fail 8005 problem decrypting session key, this book maybe B&N ebook"
check "Re-build key file" to create new file, then try again.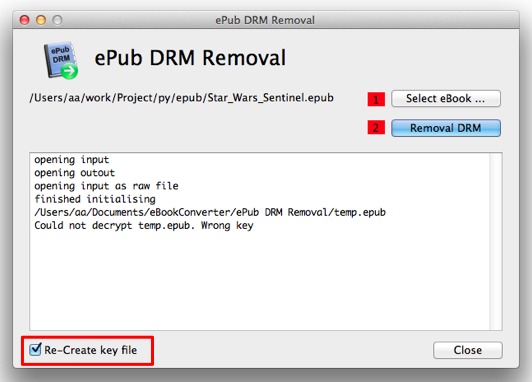 if new key file doesn't work, you still get same error, then de-authorized in digital editions and authorized again, do as follow:
1 De-Authorize in digital edition, press CMD+Shift+D in Mac to de-authorize in Mac,

for windows, press CTRL+SHIFT+D to deathorize digital editions,
you also need delete these 2 path in windows registry :

'Software\Adobe\Adept\Device'
'Software\Adobe\Adept\Activation'

2 Authorize your computer again, go to menu Help -> Authorize Computer

3 Run Converter again.
ePub eBook
EPUB is a free and open e-book standard by the International Digital Publishing Forum (IDPF). Files have the extension .epub.
EPUB is designed for reflowable content, meaning that the text display can be optimized for the particular display device used by the reader of the EPUB-formatted book. The format is meant to function as a single format that publishers and conversion houses can use in-house, as well as for distribution and sale.
An EPUB file can optionally contain DRM as an additional layer, but it is not required by the specifications. In addition, the specification does not name any particular DRM system to use, so publishers can choose a DRM scheme to their liking. However, future versions of EPUB (specifically OCF) may specify a format for DRM.
You have purchased DRM-protected epub eBook, then you have probably discovered how annoyingly restrictive DRM technology is. You can try our software that removes epub DRM easily and produces DRM-free ePub ebook that you can enjoy on practically any capable e-reader device.
Related Articles