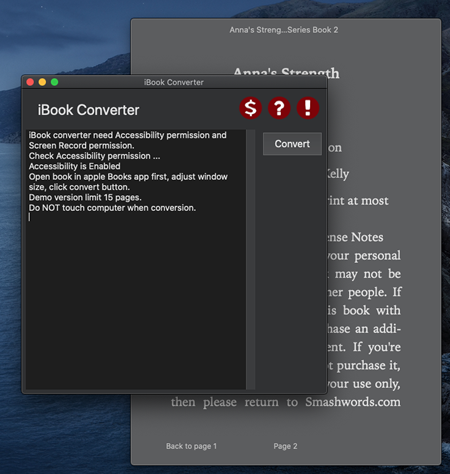 iBook Converter
is tools to convert Mac
Books
ebook to pdf, pdf file can view in other Mac, PC and android, share ibooks book to other user without limitation, easy use with 1-click.
Demo version limit to 15 pages.
Mac Books ebook DRM protection can't be decrypted, but we can take screenshot of book page image, this is what iBook Converter does, PDF look great in PDF reader when set zoom level to 100.
User can add text in PDF file using OCR tools, like OCRmyPDF.
Converter capture image of Books automatically, so it need Accessibility and Screen Recording permission.
How to convert iBook to PDF?
Run Books app, open book title to convert, resize window size like image, single page view.

Download and install iBook Converter
Run Converter, it will notify to Accessibility, goto System Preference-Privacy-Accessibility

click left-bottom Lock button to unlock, then check iBook Converter.

Click Convert on converter, it will notify Screen Recording, goto System Preference-Privacy-Screen Recording, check iBook converter, it show Quit app, click Quit Now.

Run converter, it is ready to work, click Convert button, wait 2 second, it will go through all book pages, Do NOT touch computer when it is working,

save a pdf in ~/documents/ebookconverter/ibook converter
demo version limit to 15 pages.
Related Articles