I download epub and pdf format books from the public library and a private bookseller.  The download comes with a .acsm suffix instead of epub or pdf. When I try to transfer these to my Nook Color use ADE they are not accepted by ADE and do not show in the library window.
How can this problem be solved?
A. When you borrow a ebook from public Library, what you are really downloading is an .acsm file. There is a lot of confusion about this file type as the .acsm is not your actual eBook. It is just a link to your eBook that allows a program like Digital Editions to download the actual book, When Digital Editions sees the .acsm file it will automatically download the PDF or ePUB file, which is the actual eBook,
If you do have Adobe Digital Editions installed and authorized correctly, then you won't even see the .acsm file at all. It will do its job in the background of your ebook download. The purpose of this file is to communicate with Adobe's content server and register the ebook to the Adobe ID that you have used to authorize ADE. If you don't know how to do the authorization process, so you only remove drm from epub/pdf file, not from .acsm file, This is how to remove drm from epub/pdf file.

ePub Converter
is tools to convert Adobe digital editions DRM ebook to PDF ePub HTML Word Text format, it removes expired limitation of public library epub/PDF books, support Adobe ADE, NOOK DRM protection, support Google ebook, Kobo eBook, Sony eBook.
you can download here :
1). Install Adobe Digital editions, you can skip to next step if you have already installed.

2). Open .acsm file in digital editions, When Digital Editions sees the .acsm file it will automatically download the PDF or ePUB file, which is the actual eBook, and then unlock the file's DRM so that it becomes readable.  At this point you should be able to read the library book in Digital Editions.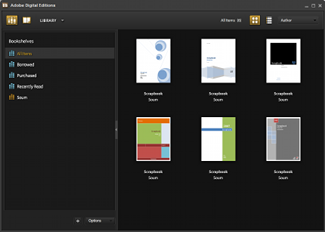 3). Run ePub Converter, it is easy to use, click "Digital Editions" button to import epub file from digital editions library folder.



user also click "Open" button to open digital editions folder, drag drop epub file into converter window.


4) Select output format, user can set paper size if output is PDF format, it support Letter, A4, A5, B4,B5 size, then Click "Convert" button to start job, it takes time to convert to other format, wait until job finished.
converter supports batch conversion mode, And conversion process is promised without any quality loss to your files. The books will still keep the same quality as the original one.


5) After you succeeded in converting EPUB to PDF, you can read your epub in any device.

What is an .acsm file?
ACSM stands for Adobe Content Server Manager. That name gives a clue as to the purpose of these files — they are download manager files. They manage the download of your ebook.
The majority of the time, you don't even see the .acsm file when you download an Adobe ebook. Usually the only time you see it is if you haven't properly set up Adobe Digital Editions, or you don't even have it installed. I can't stress this enough: before you buy Adobe ebooks, whether PDF or EPUB, install the software you need! If you haven't installed the correct software for any file type, your computer won't know what to do with it.
Related Articles