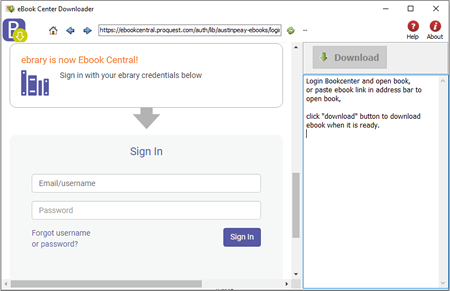 ProQuest Downloader is tools to download proquest.com books to pdf format ebooks, ProQuest book usually download by Adobe Digital Editions, remove ebook DRM by ePub DRM Removal, proquest.com updated DRM server recently, new DRM can't decrypt by now, some books can view in browser, ProQuest Downloader download book in PDF format, the new PDF file can read in Windows,Mac without limitation, share your ebook with friends.
ProQuest Downloader is best tools we provide for proquest.com before new DRM decrypted, it only support PDF book by now,
There is demo limitation in demo version, only 6 pages download in demo, all pages in full version.

Step by Step Guide
Install ProQuest Downloader and run it, copy book link from browser and paste in downloader address bar, login bookshelf account,

Select book to download, open it, click Download button when it is ready,

it will download pages one by one, user can stop it any time or close downloader, resume downloading rest pages when download book again.

it create pdf file in output folder when all pages downloaded.

Related Articles