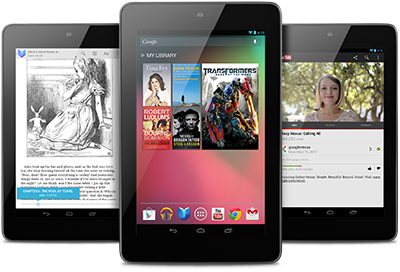 Nexus 7 was made for Google Play, so all the entertainment you love is right in your hand: the world's largest collection of eBooks, millions of songs, thousands of movies and TV shows, and a growing selection of magazines – plus over 600,000 apps and games.
The world's largest collection of eBooks
With over 4 million books to choose from, Nexus 7 gives you access to the world's largest collection of eBooks. Customize your reading experience by adjusting the font, switching to day or nighttime modes, and much more.
Magazines
Magazines come to life on Nexus 7. With hundreds of popular titles to choose from, you're bound to find something for you. Buy single copies of new issues, or subscribe to your favorites on Google Play.
On paper, the specs for the Nexus 7 are quite impressive. Powered by a quad-core Tegra 3 processor with 1GB RAM and either 8GB (priced at £159 in the UK and $199 in the US) or 16GB (£199/$249) of onboard storage, this tablet runs circles around the Kindle Fire, rivaling many competing Android tablets at twice the price (or more).


The 7-inch 1200 x 800 HD backlit IPS display packs a respectable 216 pixels per inch onto the screen. Sure, it's not quite as impressive as a third-generation Retina Display iPad at 264ppi, but given the price, you will have little to complain about from the display.
The front of the Google Nexus 7 by Asus is devoid of hardware-based buttons, but a 1.2MP front-facing camera rests at the top of the tablet front, which is covered entirely by Corning glass (we're assuming Gorilla Glass, but Google isn't confirming).
Related Articles