You have som eBooks to read. And you have installed Adobe Reader on your computer. You would like to know how to read digital editions using Adobe Reader. This guide will direct you to read ditital editions with Adobe Reader
Adobe Reader is the tool for opening and using Adobe PDFs. It shipped with Adobe Acrobat. You can create PDF files on it. Although you can't create PDFs in Reader, you can use Reader to view, print, and manage PDFs. After opening a PDF in Reader, you have a variety of tools to help you find information quickly. In addition, Use the Reader multimedia tools to play video and music in a PDF. And if a PDF contains sensitive information, you can sign or certify a document with a digital ID.
Guide on how to read digital editions using adobe reader.
Adobe Digital Editions software offers an engaging way to view and manage eBooks and other digital publications. Use it to download and purchase digital content, which can be read both online and offline. Transfer copy-protected eBooks from your personal computer to other computers or devices. Organize your eBooks into a custom library and annotate pages. Digital Editions also supports industry-standard eBook formats, including PDF/A and EPUB.
Step 1: Download Adobe digital edition.
Step 2: Double click the installer, make running.
Step 3: Follow the install wizard you can install it on your computer.
Step 4: Then there will be a shorcut on you desktop. You can double click it to view high-quality graphics, pictures, and fonts for a rich reading experience.
You should use Adobe Reader 7.0 or later. Because these versions provide full support for digital editions. You can download Adobe Reader 9.1 free. And with Adobe Digital Edtion you can view high-quality graphics, pictures, and fonts for a rich reading experience.
You also can convert Digital Edition ebook to PDF format, read it in Reader.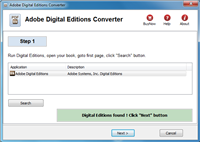 download Digital Editions Converter
Related Articles