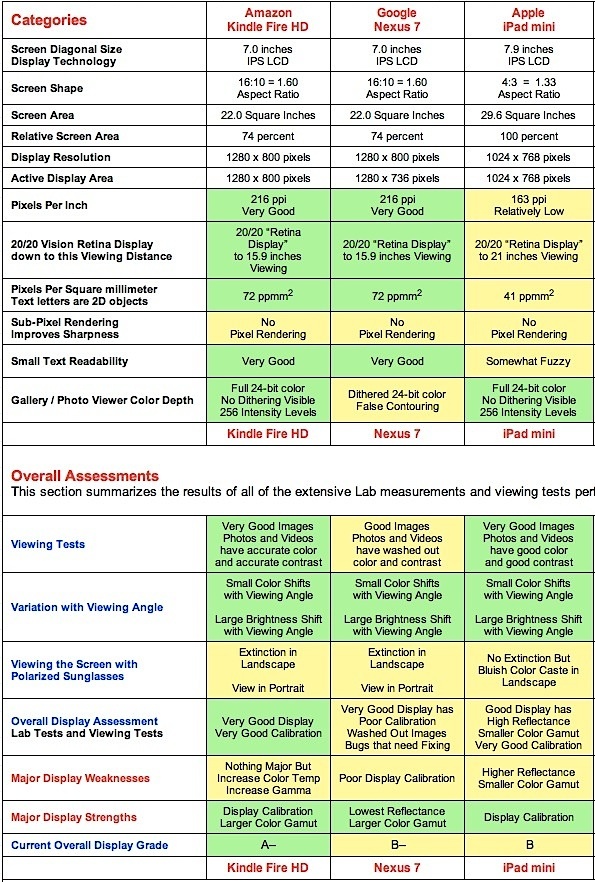 the Google Nexus 7 and Amazon Kindle Fire HD. "The displays on existing mini Tablets from Amazon and Google outperform the iPad mini in most of our lab tests.
Pixel resolution: iPad Mini has a 1,024×768 resolution with a pixel density of 163 pixels per inch (ppi). "That's now considered to be rather on the low side." The Nexus 7 and Kindle Fire HD are both rated at 216 ppi.
Screen reflectance: On the iPad Mini, screen reflectance "is a surprisingly high" 9 percent. On the Nexus 7 the reflectance is a much lower 5.9 percent, while on the Kindle Fire HD it is 6.4 percent. "As a result, the iPad mini reflects 53 percent more ambient light than the Nexus 7 and 41 percent more than the Kindle Fire HD."
Color gamut: The iPad Mini has an "antiquated" small 62 percent Color Gamut. The Kindle Fire HD and Google Nexus 7 both deliver a much larger 86 percent color gamut. And the iPad Mini compares even more unfavorably with iPad 3 and iPhone 5, which have full 100 percent standard Color gamuts.
But the iPad Mini's display doesn't fall flat across the board. DisplayMate gives it a "good" or "very good" rating in some key categories in the chart below. For example, in the "Viewing Tests" category, the iPad Mini and Kindle Fire HD are rated "very good," while the Nexus is rated only "good," with notations stating that photos and videos on the Nexus 7 "have washed out color and contrast."
Essentially a reiteration of DisplayMate's previous criticism of the Nexus 7's display, which got a "current overall display grade" of "B-", versus "A-" for the Kindle Fire HD, and "B" for the iPad Mini.
Related Articles